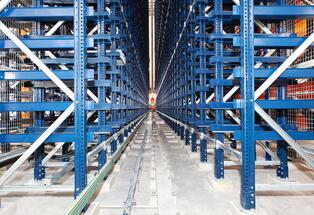 In the southeastern region of Paris, on the fertile cereal lands of Seine-et-Marne, a colossal building shaped like a record is in the final stages of construction. Conforama has chosen this location to establish the largest logistics platform in France, covering a massive 177,500 square meters of metal and concrete. To give an idea of the size, this is equivalent to the surface area of 26 football fields. The developers, Gazelay and Argan, have agreed to create vegetated mounds to conceal the 800-meter facade and fund road access to overcome resistance from the departmental council. The building has a total storage capacity of 270,000 pallets and 187 doors for truck loading.
The first phase of the development, covering 63,000 square meters, is set to begin operations by December or January, with the entire site scheduled to be fully operational by mid-2019. The project is expected to create 400 jobs. This new facility will replace two smaller warehouses and serve all the stores in the northern half of France from Brie. ID Logistics will be responsible for its operation. A spokesperson for the South African group Steinhoff's subsidiary, Conforama, stated that the new warehouse will have more automation to reduce the arduousness of loading trucks, which is typically needed for heavy products.
A few miles away from Conforama's warehouse, following the heavy trucks on the Francilienne, we arrive at the former air base of Brétigny-sur-Orge in Essonne, where Amazon has pre-empted a 31-hectare plot to establish its largest French site for parcel delivery. The rapidly growing American e-commerce giant's site covers 142,000 square meters on three levels and is located near major roads in southern Île-de-France, only 29 kilometers from Paris. The inauguration, originally scheduled for September 2018, has been delayed until the first half of 2019, with the municipality suggesting a date around June due to issues with flooding on the site.
This massive Amazon warehouse is designed to have a denser storage capacity than other sites, with a height of more than 20 meters, lifting tall cabinets 2.50 meters high for each order, and automatically bringing them to operators responsible for filling boxes on the periphery of the building. The facility will have a capacity to store up to 258,000 cubic meters of products, with 39 truck docks and a "dynamic storage" system, allowing for faster processing of orders. The site will be dedicated to small-sized packages and will serve the entire territory, including Île-de-France.
Source: Les Echos